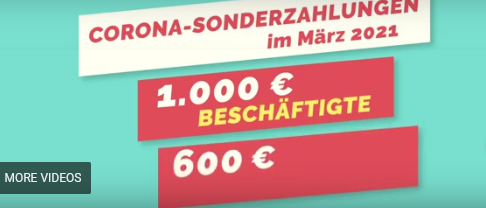 Energy workers in Germany have secured a €1,000 one-off payment in recognition of their work during the pandemic.
The deal negotiated by the ver.di trade union on behalf of some 35,000 workers includes a 2.3% pay increase backdated to 1 January. The 27-month agreement that runs until 31 March 2023 provides for a second pay rise of 1.5% in June 2022. Apprentices will get a €600 corona bonus as well as increased pay, with a guaranteed job for all apprentices who complete their training, until 2024.
In the textile and clothing sector, employees will receive a single corona bonus payment of €325 for the year 2021. An agreement between IG Metall and the employers' Textil + Mode confederation covers 100,000 workers in west Germany, who will see their salaries rise by 1.3% from February 2022 and a further 1.4% in October 2022. The collectively agreed part-time work arrangements for older workers (Altersteilzeit) will also be extended and improved.