Commenting on the conclusion of the European Council summit, ETUC General Secretary Luca Visentini said:
"Around 9.5 million working people already had problems paying their bills and the energy crisis exacerbated by the war in Ukraine is likely to plunge millions more into fuel poverty. Meanwhile, energy companies are banking record profits.
"It couldn't be clearer we need an energy price cap while Europe finds alternatives to Russian fuel. To ensure people can live in dignity but also to ensure continued popular support for the strongest possible sanctions against Russia.
"EU leaders are making good progress on middle to long term solutions to energy security, but they must go hand in hand with measures to deal with the immediate fallout of this war. On top of capping energy prices, the EU should also act to protect jobs and businesses as it did during the pandemic by refocusing and refinancing the SURE scheme.
"That would make it easier to press ahead with a fifth round of sanctions which is badly needed to bring this appalling, illegal war to an end. There is no place for ideological 'frugality' if we want to defeat Putin.
"The EU should also do more to show it stands with Ukraine by opening a dialogue with President Zelensky on the accession process following his extraordinary address to the Council. There is no expectation, including on the Ukrainian side, that this would be fast or easy.
"But starting the process would send a strong signal to Russia that far from being alone, Ukraine is a central part of the European community. The same dialogue should be opened with the other countries associated with the EU like Georgia and Moldova, to guarantee stability and equal treatment to the region."
Notes
Full speech by ETUC General Secretary Luca Visentini at the EU Social Summit on "a united response to the social and economic impact of the Russian military aggression against Ukraine": https://www.etuc.org/en/speech/vtc-tripartite-social-summit-growth-and-employment-opening-speech-luca-visentini-etuc-0
ETUC Resolution on Ukraine: https://www.etuc.org/en/document/etuc-resolution-ukraine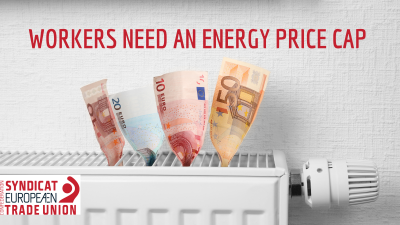 25.03.2022