European leaders must ensure subsidies for green industry come with social strings attached.
The EU's response to the United States' Inflation Reduction Act will be discussed by heads of government at the European Council today. 
While the European Commission has published plans to keep industry in Europe by matching US subsidies for clean-tech, the EU is so far being left behind when it comes to social conditions to ensure public money is used for the common good.
The Inflation Reduction Act includes:
Bonus tax credits for companies which pay decent wages and hire apprentices;
Tax corporate stock buybacks to encourage businesses to invest instead of enriching CEOs;
Extra tax credits for clean energy projects established in communities previously reliant on extractive industries.
Without adopting similar measures, 250 billion Euro in EU funds and billions more in national state aid could be handed to companies which are driving down social standards in Europe.
Public money should be dependent on respect for collective bargaining, information and consultation with workers and their unions, as well as a ban on redundancies and dividend payments.
Ahead of the Council, ETUC General Secretary Esther Lynch said:
"Increasing public investment in green industry is the right thing to do but leaders have a responsibility to ensure that public money is used for the common good.  
"Subsidies worth billions of Euro must come with conditions to ensure it is properly invested and shared with the workforce not simply siphoned off into the pockets of CEOs and shareholders.
"Europe must take this opportunity to raise pay and working conditions at the same time as cutting carbon emissions."
IndustriAll Europe General Secretary Luc Triangle said:
"Industrial trade unions welcome the EU's renewed drive for a green industrial strategy at European level but we are missing equal commitment for high-quality, green industry jobs in Europe.
"The announced investment in green skills is needed but not sufficient. We insist that public support for clean tech companies is linked to social conditions. In return for green subsidies, companies must ensure a fair transition with worker participation and collective bargaining, fair pay, quality jobs and high social standards."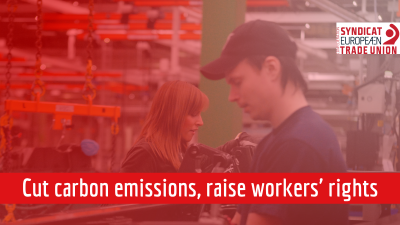 09.02.2023