Responding to the review of the EU's economic governance, ETUC Confederal Secretary Liina Carr said:
"Some of the proposed changes go in the right direction but still do not match the scale of the challenges facing Europe's economy. While offering more national ownership and fiscal adjustment paths for Member States in a more flexible way, there is no real reform of the deeply divisive Growth and Stability Pact.
"We need economic rules which support employment and investment in a socially just transition to a green and digital economy, while ensuring decent social protection and properly funded public services. We are not sure, under the proposed reforms, this could be achieved in a socially just and acceptable manner.
"The solutions to the cost-of-living crisis, will require a level of public investment which is just not possible without new growth-enhancing policy tools, such as a golden rule for public investment, or a new fiscal capacity at the EU level similar to the 'Next Generation EU' and 'SURE'.
"The EU should send clearer signals to national capitals – we need a clean break with the austerity rules that threaten effective solutions to the current and future crises, curtail socially just transitions for all, and most importantly limit the ability of member states to invest in quality public services so that we are all better prepared when the next crisis hits.
"The EU's economic rules have failed in the past, have had to be suspended at present, and are unfit for the future of our economy and planet, so the review of the EU's economic governance has been a positive and long overdue development. However, keeping the debt and deficit rule mostly unchanged and strengthening the role of macroeconomic imbalances procedures without any regard for the need also to keep social imbalances under control, will do no good to any European member state, whether in or out of the eurozone.
"The EU regained the trust of many working people because it saved jobs and businesses during the pandemic, which was made possible because the economic rules which have put on a straitjacket on the economy and people's well-being for the past decade, were suspended.
"It is time to act more boldly than this proposal for limited reform."
Notes
Recent polling found 59% of EU citizens want an end to the EU's austerity rules and 53% agree that rules should be adjusted to allow governments to increase spending on green infrastructure and innovation to fight climate change.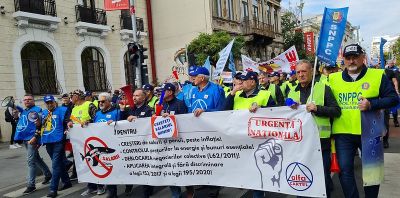 09.11.2022