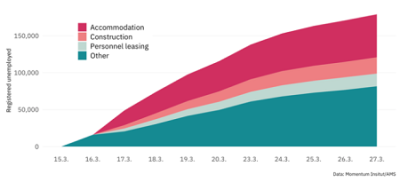 The social partners in Austria developed a model of subsidised short-time work in a bid to prevent a rising toll of unemployment due to the COVID-19 crisis.
The scheme, introduced on 20 March, allowed a temporary reduction in working hours while maintaining the employment relationship and paying workers up to 90% of their previous net earnings. The measure aimed to secure a fast return to pre-crisis economic activity.
With employees only required to carry out on average 10% of their normal working time within a three-month period, it also covered the option of a temporary reduction to zero hours. After three months, short-time work could be prolonged for another three months if necessary.
Across Europe, trade unions have been involved in negotiating short-time working schemes and other measures to defend jobs and living standards during the crisis. More information is contained in the ETUC briefing notes.
Figure: Rise in unemployment in Austria after announcement of confinement measures