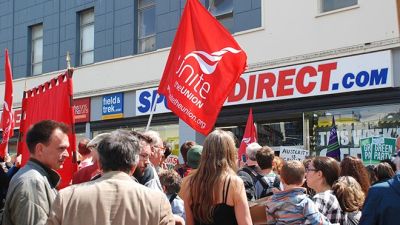 Trade unions in the UK have joined forces with independent company shareholders to force a bad employer to change its work practices.
Retailer Sports Direct was notorious for its use of zero-hours contracts and punitive employment practices, reminiscent, according to British Parliamentarians, of "a Victorian workhouse". The Unite trade union collaborated with Trade Union Share Owners (TUSO), a grouping of fund managers who use their investor status to influence company policy.
At this year's Sports Direct AGM, TUSO was able to coordinate a majority of independent shareholders in calling for an investigation into work practices. The management has since announced an end to zero-hours contracts.
"What we've achieved here is not only good for Sports Direct workers, it's good for investors who want to see a better standard of management at the firm," said TUSO chair Janet Williamson. "If we can continue persuading investors that treating staff badly is not the road to success, we can make a difference with other firms too."