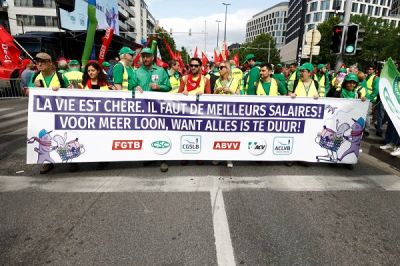 Trade unions in Belgium are mobilising on 21 September, demanding government action to tackle the cost-of-living crisis, lower energy bills and recognise that liberalisation of the energy market has been a failure for consumers.
Belgium's annual inflation rate in July was at 10.4%, higher than the euro-area average and the country's immediate neighbours in France, Luxembourg and Germany.
"In many households, it is no longer possible to save anything," points out the FGTB federation. "The situation is serious." The union is calling on the government to maintain the reduced VAT rate of 6%; freeze energy prices – if possible across the EU; redistribute excess profits from energy companies; and re-establish public control over the energy sector.
In June, at least 70,000 people joined the national demonstration in Brussels organised by the main trade union confederations. The unions are also urging political leaders to reform legislation to allow easier wage bargaining.