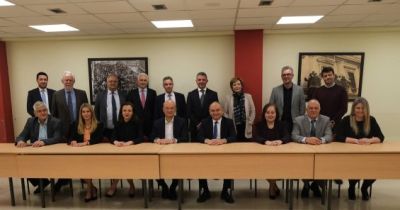 A new collective agreement between the Greek Federation of Bank Employee Unions (OTOE) and the country's four largest banks, which employ more than 70% of the sectoral workforce, has secured significant pay increases and other benefits.
It provides for a global wage increase of 5.6% paid in three stages: 2% in 2022, 1% in 2023 and 2.5% in 2024. The employers pledged to try to maintain jobs and avoid redundancies.
The agreement also covers arrangements for teleworking. It makes employers responsible for paying employees' teleworking costs and for offering ongoing professional development, so that workers can cope with the challenges of digitalisation.
Said OTOE President Giorgos Motsios: "Under the present circumstances of intense uncertainty, instability, questioning and attacks on the role of collective agreements, OTOE has succeeded in concluding a three-year national sectoral agreement which protects jobs, increases salaries by 5.5% and establishes a framework for regulating remote work, further enhancing safety, protection and perspectives for the workers in the sector. OTOE is sending a message of optimism, confidence and perspective with wider social and political implications."