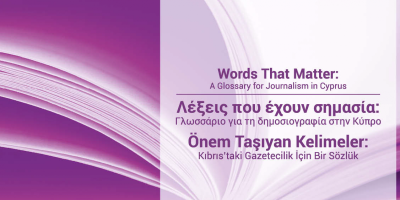 Journalists' trade unions in Cyprus have joined together in a bid to overcome the longstanding social tensions that divide Greek and Turkish Cypriots and help media workers to be more aware of the sensitivities of neighbouring communities.
A newly published trilingual glossary for journalism, in English, Greek, and Turkish, lists the Words that Matter in promoting understanding, coupled with explanations of why and how certain terms may make others uncomfortable or create hostility.   
Three professional organisations, including Basin-Sen and the Union of Cyprus Journalists – both affiliated to the European Federation of Journalists – helped to draft the publication with the support of the OSCE and the Ethical Journalism Network (EJN), to combat hate speech and promote journalistic excellence.  
"This glossary will start a new era in Cyprus, as journalists begin to discuss, improve and even criticise it", said Basin-Sen President Ali Kişmir. "It will not answer all the questions, but it will start a dialogue and discussion between the journalists of two communities."
"The glossary is not a list of banned words or phrases," insisted EJN President Aidan White. "It underscores the simple truth that media have the capacity to combat ignorance and promote better understanding."
"This work owes much to the cooperation of journalists' unions on this island," added OSCE Representative on Freedom of the Media Harlem Désir. It is a core feature of the Cyprus Dialogue project which encourages exchanges between young journalists from both communities.