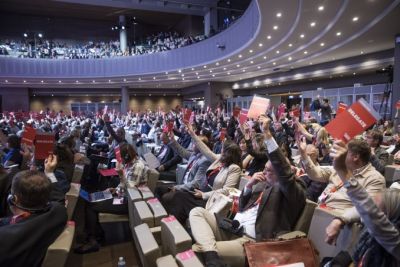 Emergency motion on Northern Ireland
Adopted at the ETUC 13th Congress on 2 October 2015
The Irish Congress of Trade Unions as a matter of urgency requests this Congress to intervene in demanding the political parties in Northern Ireland with the assistance of the British Irish and U.S Governments to resolve the political impasse in Northern Ireland.
This Congress supports the Devolved Administration of Northern Ireland and demands that the Governments involved in the negotiations provide a financial stimulus necessary to ensure the continuation of the political institutions.
The austerity measures being imposed on the citizens of Northern Ireland by the Tory Government in Westminster are a major impediment to the resolution of the political impasse. Northern Ireland remains a society emerging from conflict. A society which has the lowest levels of any region in the UK of investment, educational attainment, and the highest levels of mental ill-health, suicide rate 70% higher of any region, poverty, security spend, economic inactive.
The failure to achieve a political resolution in the talks which commenced this week will result in the fall of the political institutions and direct rule of Northern Ireland by the Westminster Government, the consequences of which are unimaginable for the workers and citizens of Northern Ireland and would result in the emergence from the shadows of so called dissident para-military groups to fill the political vacuum. 
The Trade Union movement on the Island of Ireland assisted by other Confederations throughout Europe and the U.S has been central to the peace project. But for its role in maintaining the unity of workers irrespective of political or religious ideology outright civil war could have ensued.
Congress resolves to support the ICTU to maintain that peace project.