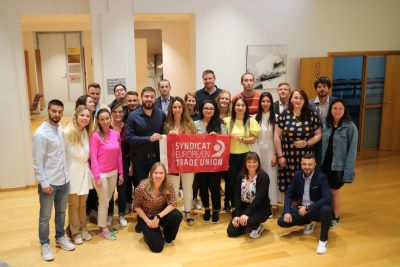 We are entering the last quarter of the European Year of Youth, a year that was dedicated to young people after they were recognised as one of the worst  affected groups by the pandemic and after the research showed that poverty and inequality are one of the biggest concerns of  young people, preceded only by jobs and employment.
Europeans under 25 are at higher risk of poverty and social exclusion as a result of  precarious working conditions which are more prone to redundancy, pay cuts, and furloughs.  That is why today, on the International Day for the Eradication of Poverty, and in the midst of the cost of living crisis, we want to raise the alarm and bring  attention to young people at risk of being  left behind and in dire need of swift help from poltiicians  on both National and European Level.
Young people, are again at the forefront of volunteering activities, fighting climate change, welcoming refugees and opposing  far-right and autocratic governments threatening freedoms and human rights in Europe. And yet, too many of us feel that the current crisis will again impact us disproportionally.
We need to create targeted measures to invest in young people.
Decent salaries, adequate minimum wages and minimum income must be ensured for people of all ages. We reject  the false narrative that an increase in wages drives inflation and that young people do not have adequate skills to earn more. We must start by guaranteeing quality internships and apprenticeships that will lead to sustainable jobs covered by strong collective bargaining.  Nothing else will  solve the problem.  
Additionally, as we repeat after every recent crisis, access to social security, such as unemployment benefits and health insurance, must be made universal, regardless of the type of working contract.  Taxing  excessives profit will ensure that there are enough resources without destructive austerity policies. We should be devising  taxation that allows for higher revenues in order to make social protection systems and public services more responsive and effective in meeting young  people's needs and tackling  inequality.
Access to housing and the ability to live independently has been a concern for young people already before the crisis. Now the continuous rise in rental costs, failure to cap mortgage interest rates and doubled (sometimes tripled ) energy bills make it almost impossible to leave the parental home limiting our ability to plan family and personal lives in the short, medium and long term.Young people  need a cap on energy prices and financial help for those who struggle with their housing situation. We also need to recognise the increased toll that the situation has on mental health and ensure accessible and affordable care to those who need it.
The situation of young people is well known, and so are the obstacles that we often face in accessing emergency help. In the the European Year of Youth, young people ask that all proposed measures are seen through the eyes of youth people and that they come now.   
The coming months will be difficult ones, but we believe that with a  European collective answer based on solidarity, we can make sure that the number of young working people living in or at risk of poverty, will finally start to decline .