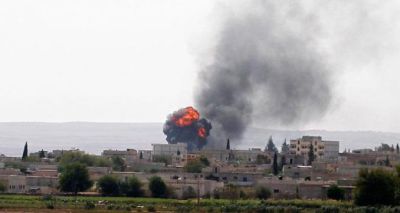 Adopted by the Executive Committee at its meeting on 21-22 October 2014
The ETUC is deeply concerned by the situation in Kobane, and in other regions of Syria and Iraq. The so-called 'Islamic State' has been attacking regions of those countries for several months, persecuting its population in a shameful ethnic and religious-based strategy. As a result of these attacks, more than 2 million people have taken refuge in Turkey, while those remaining in their villages and towns are still suffering from the IS offensive. The ETUC strongly condemns the killing and abuse of civilians.
The ETUC acknowledges the efforts of the European Commission to give humanitarian aid, yet the loss of life and the level of crisis calls for immediate further action and broader additional support, especially in healthcare. Together with the International Trade Union Confederation (ITUC), the ETUC will mobilise solidarity to help meet the basic needs of the refugees. The necessary measures also have to be taken to secure the basic rights of those refugees.
The ETUC expresses its solidarity with the workers who are in the frontline of the violence and humanitarian crisis, and doing their work under extremely dangerous and difficult circumstances. The rights of those giving support and aid, including trade union rights, should be respected.
The ETUC calls on the international community and European states, including Turkey, to take urgent action, together with the United Nations - which should lead the operations - to prevent the IS mass murder of people throughout Syria and Iraq. All parties have to contribute to peace and stability in the region.