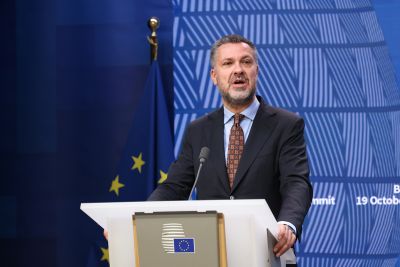 The European economy is growing, but this is mainly due to the economic recovery following the pandemic and boosted by the massive public and private investment coming from NextGenerationEU.
The effects of the war in Ukraine on employment have not yet hit, since companies are still trying to cope with the energy crisis and inflation by reducing working hours instead of cutting jobs.
But in the medium term we can realistically expect that many companies will significantly reduce their operations or even close down completely, negatively impacting on employment.
Nominal wages increased by between 2% and 3,5% in the last 1 year and half, broadly in line with the ECB target for inflation – additionally, the wage share is still below its 2019 level.
It is clear that there is no wage-inflation spiral in place, and that it is not likely to happen in the medium-long term either.
On the contrary, we have been experiencing a significant cut in real wages for more than a decade, and erosion of purchasing power is going to become even more serious now due to inflation.
At the same time dividend distribution, after an 8% contraction in 2020, increased by 21% in 2021.
Net private investment as share of GDP did not recover from 2019 and is on a decreasing trend and it currently represents only half of what it used to be in 2000.
Profits, profit margins and profit shares all increased, but this has not translated sufficiently into wages and investment.
The economic and social effects of the Russian invasion of Ukraine, particularly the escalation of energy prices and inflation, are putting enormous pressure on companies, especially SMEs, workers and households, so pushing  the European middle class into poverty.
The recent decisions of the ECB to increase interest rates are unfortunately going to aggravate this situation, with a risk of increasing unemployment, depressing investment and not reducing current high inflation levels.
But we can't expect monetary policy to resolve the problems.We face an emergency which requires extraordinary policy decisions - we expect the EU institutions to be more courageous than they have been so far, and to show the same ambition and solidarity they shown at the time of COVID.
We urge the Commission and Council to agree on effective price caps on the cost of energy and on taxes on excessive profits, along with measures to prevent speculation on food prices.
We expect a radical reform of the functioning of the EU energy market.  There is a need to recognise that energy is a public good and to boost public investment, particularly in green energy and public services.
We underline the need for pay rises to meet the increase in the cost of living and ensure workers receive a fair share of income and productivity gains, as well as measures to promote collective bargaining as the best way to achieve fair pay and a sustainable economy.
In this respect, we would welcome a swift transposition of the Minimum Wages Directive in all Member States, particularly through the implementation of the Action Plans to strengthen collective bargaining.
Last but not least, we urge governments to develop national anti-crisis support measures to help people to pay their bills, food and rents, and to protect incomes and jobs.
All Member States must be given the possibility to do so, regardless of their so-called fiscal space.
That's why we demand that the Commission and Council urgently implement an emergency instrument at EU level, adequate to protect companies and jobs, but also to support people's incomes, to finance social measures to cope with the crisis, and to accompany climate transition in a socially just manner.
This instrument should be based on the positive example of the emergency measures agreed in the Summer 2020, particularly SURE, but with a broader scope able to tackle all economic and social consequences of the war.
I will stop here, my colleague Liina Carr will go more in detail on some of these measures.Thank you very much for your attention.