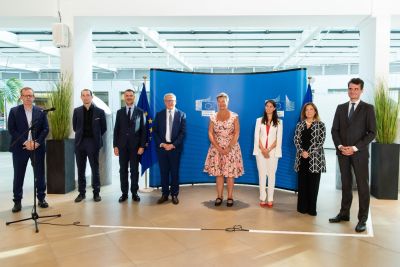 On 7 September 2020, the European Social and Economic partners (ETUC, BusinessEurope, CEEP, SMEunited and EuroChambres)  and the European Commission - represented by Commissioners Johansson and Schmit - renewed their commitment to the European Partnership for Integration Offering opportunities for Refugees to integrate the European Labour Market with a joint statement.
Since its launch in December 2017, the Partnership has brought the European Commission and European Social and Economic Partners together to work closely to create new opportunities for the labour market integration of migrants and refugees. Social and economic partners have put in place a wide range of actions and initiatives in twenty EU countries, such as the LABOUR-INT project.
During the signing ceremony, Luca Visentini, ETUC General Secretary, said:
"Relaunching the Partnership for Integration is more than ever needed, not only for training and jobs but for respecting the rights of migrants and refugees, ensuring full equal treatment and enlarging the protection not only to refugees but to economic migrants".
"Trade unions will continue implementing projects, setting up networks and activities in the different Member States, but all of this will be successful if we do not forget our values, integrating migrants is for sure a need for our labour markets but first of all it is a value when its comes to a more inclusive and open society".