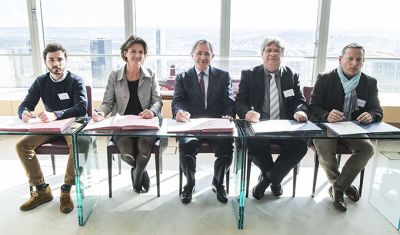 Three European sectoral trade unions: industriAll Europe, the European Federation of Public Service Unions (EPSU) and the European Federation of Building and Woodworkers (EFBWW) have signed an important new agreement with the power and energy group ENGIE, to help workers adapt to the energy transition.
The scope of the deal – covering 87% of employees and applied equally across the company's European operations – is a major step forward. It earmarks €100 million a year for staff training, aimed at upgrading the skills of two-thirds of employees, allowing the group to anticipate changing trends.
"The negotiations yielded substantial commitments, and especially the recognition of a minimum base of social guarantees for all the employees in the European Economic Area," said industriAll Europe's Deputy General Secretary Sylvain Lefebvre.
"Dialogue between management and labour is key to the success of the group's transition. We are very proud of having signed this agreement with all of the Europe-wide trade unions," added ENGIE CEO Gérard Mestrallet.