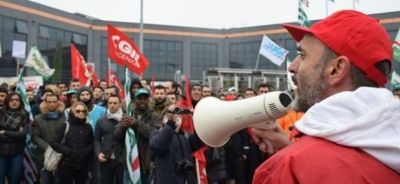 Amazon workers are celebrating a significant victory. An agreement between Amazon and Italian trade unions is thought to be a first in the multinational distribution company's history. It aims to reduce mandatory night shifts and share out weekend work in a fairer way.
The deal between Amazon and workers represented by sector trade unions, including Filcams Cgil, was signed in Piacenza in May. The company is notorious for long hours, punishing quotas, and little break time during shifts. But under union pressure it agreed to change its work schedules. The deal, which came into force in mid-June, will be closely monitored over the next 12 months.
"We are satisfied with a result that is currently unique in Europe," said Massimo Mensi of Filcams Cgil Nazionale. "We hope will pave the way for the opening of many other negotiations in all the countries where Amazon has its  operations."
"This is an extremely important agreement that can now pave the way for new corporate relationships on issues of health and safety in the workplace." confirmed Maria Grazia Gabrielli, General Secretary of Filcams Cgil Nazionale.