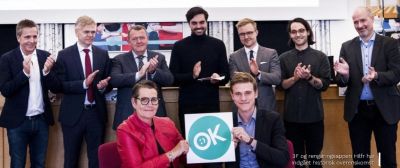 A landmark agreement between Danish cleaning services digital platform Hilfr and the United Federation of Danish Workers (3F) takes a ground-breaking step towards safeguarding the rights of online workers – guaranteeing the same conditions as elsewhere on the Danish labour market.
The one-year 'trial' agreement – in force from 1 August – covers pensions and sickness benefits, holiday pay and collectively agreed wages. 3F President Per Christensen hopes in future to include unemployment benefits, training and education.
"This is a very big and important step we have taken. However, it is just a single step down a very long road," said 3f Group President Tina Møller Madsen. "We are building a bridge between the Danish model and the new digital platforms, and there are major challenges facing us."
"With this agreement we are raising the bar for the gig economy and showing how we can all benefit from new technology without undermining labour rights and working conditions," said Hilfr co-founder Steffen Wegner Mortensen. The company expects other platforms to follow its lead.
Danish Prime Minister Lars Løkke Rasmussen was present at the signing ceremony. "This is a pioneering agreement in keeping with an old tradition," he said. "It provides security for the individual and responsibility towards the community."