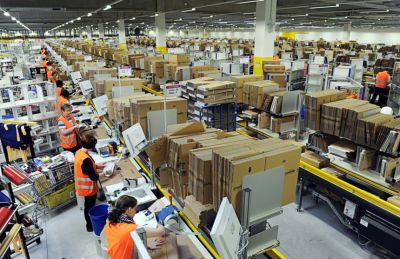 After long, hard negotiations, trade unionists in Milan have reached an agreement on conditions for transport workers subcontracted to internet sales giant Amazon. 
The deal secured by the Federazione Italiana Lavoratori Trasporti (Filt) applies to freight and transport logistics workers in both the Origgio and Milan plants.
Filt acclaimed the agreement as an important step that highlighted the widespread irregularities in the supply chain especially in the new economy sector, including non-recognition of overtime, non-compliance with working time regulations, and excessive use of part-time work. The next step could be to extend union negotiations to cover other groups of Amazon workers. "Freight transport is rapidly expanding and has many hidden aspects that escape scrutiny by the authorities," said the union. "Now, it is imperative to address a wider discussion across the entire business chain working for the e-commerce leader."
The agreement will apply to all workers in the sector, with recognition of the right contractual levels and the payment of overtime, and a commitment to reducing part-time contracts and increasing stability for precarious workers.
Photo: Scott Lewis