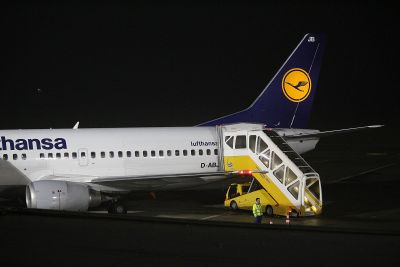 After four rounds of collective bargaining, German union Ver.di has welcomed the conclusion of a long-term agreement with airline Lufthansa, bringing wage rises of up to 6% for some 28,000 ground staff.
The deal also brings to an end the long-term employment of temporary staff in the technology/IT branch Lufthansa Technik, confirming the maximum employment quota for temporary workers of 12.5%.
The 33-month accord runs from 1 January 2018 to 30 September 2020, offering a 3% payrise on 1 February 2018, plus a further 3% on 1 May 2019. This second increase, however, will take account of Lufthansa Group companies' economic performance, with a guaranteed minimum of 1.8%. Lufthansa Technik employees will receive the first tranche of their award in 2018 in the form of a fixed sum of €106.65 rather than a percentage raise.
An increase in training allowances will mean the group's trainees in all business sectors will get an extra €40 on 1 February 2018 and 1 May 2019. The deal also extends the company pension plan, enabling workers to select new pay-out options.
"I am pleased that we have been able to conclude a long-term collective agreement with Ver.di for our largest group of employees. We have thus achieved collective bargaining peace for all major Lufthansa employee groups in Germany," said Bettina Volkens, Chief Corporate Human Resources and Legal Affairs officer for Deutsche Lufthansa AG.