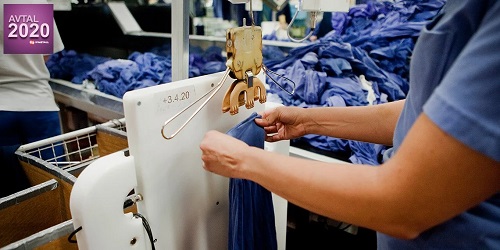 Sweden's IF Metall trade union has negotiated a collective agreement that will benefit the many low-paid workers in the country's laundry industry.
The two sides have agreed to appoint a joint working group on wage development. Nearly 80% of workers in the industry are on low pay. "We want to see more happen in this industry when it comes to wage development. There cannot continue to be such a large proportion of workers always at the lowest level," said Veli-Pekka Säikkälä of IF Metall. "The laundry industry and the employees are doing socially important work, which has become clear not least during the corona pandemic." The wage settlement is in line with developments elsewhere in the labour market, with a total 5.4% rise and a low-wage investment over the agreement period.
Sweden's municipal workers' union Kommunal has also approved a series of collective agreements to improve the wages and conditions of groups of workers over the next two-and-a-half years. In the hospitality sector, a deal with the Visita employers' organisation running until the end of August 2023 will mean a 6% increase on the monthly minimum wage and a salary rise of 5.4% over the period.
Another agreement covering personal care workers secures a 2.8% increase in the minimum wage from February 2021  with a further 2.3% from July 2022. It applies to almost 27,000 employees in some 220 companies and includes other provisions such as increased call-out pay and allowances and pension contributions starting from the age of 22 rather than 25. Staff in independent schools also benefit from a new collective agreement which increases minimum wages by 5.4% between now and October 2023.