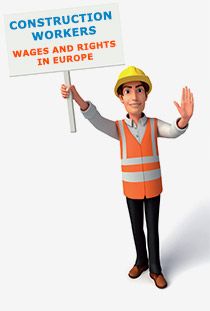 The European Federation of Building and Woodworkers (EFBWW) has launched a website offering details of construction workers' wages and rights across Europe.
The site, available in all 28 EU languages, also provides trade union contacts in different countries who can help with assistance and information, indicating what languages they speak. Other useful contacts include websites of national labour inspectorates and social security systems. In the future, it will also feature an app that can be downloaded onto mobile phones.
Via the 'join a union' menu, workers can find out what trade union membership can do for them, and identify the appropriate organisation in each country. They can also access information via an interactive map.
The initiative aims to tackle social dumping by enabling posted and mobile workers to check on their rights and ensure they are respected, and to inspire policy-makers to take action against unfair employment practices.