The prison sentences for union leaders in Belarus upheld today show the EU needs to act in support of unionists who oppose the country's authoritarian regime.
The supreme court of Belarus today rejected appeals from three trade union leaders sentenced to a combined 7 and a half years in prison for playing a part in pro-democracy protests.
Aliaksandr Yarashuk and Siarhei Antusevich, the president and vice-president of the Congress of Democratic Trade Unions (BKDP), were given 4 and 2 year sentences respectively.  Iryna Bud-Husaim, who was the union's accountant, was given a 1.5 year sentence.
It is a travesty of justice and the Supreme court ruled in abstentia, not even calling for presence of sentenced trade unionists.
They are among more than 30  union leaders who have been detained in a crackdown on independent trade union activity, which saw the BKDP and four its affiliated unions dissolved, as unionists stood for democratic rights, freedoms and interests of working people.
ETUC General Secretary Esther Lynch said:
"Trade unionists in Belarus are on the front line in the battle for democracy and human rights – they need our full support.
"We cannot accept that independent trade unions are demolished and trade unionists are labelled extremists and sent to prison for acting in support of democracy and interests of their members and broader workforce. Trade unionism is not a crime.
"We need more than a strong worded statement about this from the EU. It must take all possible steps so that the Belarusian authorities immediately and unconditionally release imprisoned trade unionists, and cease harassment and reprisals against independent trade unions and against individuals exercising their human rights.
"Many unionists had to leave the country as a result of being targeted by the regime. We need to support them in our countries as well."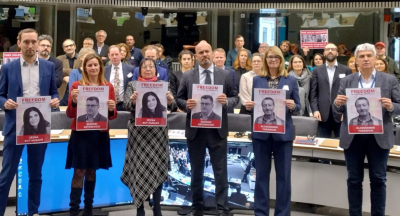 24.03.2023