Commenting on the European Commission's Care Strategy published today, Liina Carr, ETUC Confederal Secretary said
"The Commission is right to propose that care services should be expanded, be made more accessible and affordable and of higher quality. This is particularly important because of our ageing population and the cost-of-living crisis that is pushing millions of working people into poverty.
"More and more families need quality care services for all people in need whether in early childhood, in old-age or for persons with disabilities."
"Inadequate care services create further inequality and puts a disproportionate burden on women, preventing many women from taking paid employment and obliging others to reduce or give up paid work. Today's cost-of-living crisis makes this even more unacceptable."
"The Care Strategy sends a timely and much-needed message to member states about the need to improve care for users and workers.
"Expanding and improving care services could directly create many new jobs and free millions of families from carrying the heavy burden of care on their own. This obviously requires more public investment in care services, which means that the EU must enable that investment by changing its economic policy-making rules.
"The European Commission recognises that care workers suffer difficult working conditions and low wages and acknowledges that their work is undervalued. This is a good start. To recruit and retain staff the sector needs to improve wages and working conditions through increased collective bargaining."
"While there are some useful funding and other initiatives that the European Commission proposes, the ETUC urges Governments to agree the Care Strategy and put it into practice." 
The ETUC Women's Committee joined Liina Carr in supporting the proposal to raise the EU's 'Barcelona' child-care targets.
The ETUC Women's Committee
points out that the Care Strategy is vague on how it proposes to make care services affordable, although the current cost of living crisis makes affordable care even more important
stresses the importance of tackling the undervaluation of care work through social dialogue and collective bargaining.
supports the Commission in pointing out the need to address gender stereotypes, when it comes the undervaluation of care workers' skills and the difficulty of care work.
KEY FACTS
Social care workers across the EU earned 21% less than the average national hourly earnings in 2018: this compares with 19% less than the average in 2010 and 20% less in 2014 https://www.eurofound.europa.eu/publications/article/2021/wages-in-long-term-care-and-other-social-services-21-below-average
85% of  employers' organisations and social services providers from 22 European countries responding to a survey by the European Social Employers reported facing staff shortages https://www.epsu.org/article/new-data-confirms-staff-shortages-social-services-across-europe
Photo ©European Union 1995 - EP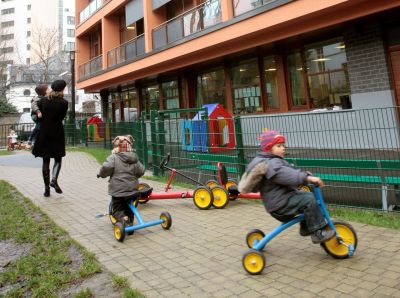 07.09.2022