Fourteen Governments– including United States, Germany, France and UK - signed up at COP26 to support a socially 'Just Transition' to net-zero emissions.  
"Climate change is here and now, and we need to move to a net-zero emissions economy as soon as possible" said Ludovic Voet, ETUC Confederal Secretary, at COP26. "It will cause huge employment changes with job losses in the fossil fuel industry and many other jobs will need to radically transform. It will also bring new job opportunities, and these need to be permanent and decently paid jobs with good conditions. Urgent and effective climate action must be combined with action to anticipate and manage employment changes so that no worker and no community is left behind."
The declaration signed also by the European Commission pledged to support six steps for a socially Just Transition:
Support for workers in the transition to new jobs.
Support and promote social dialogue and stakeholder engagement.
Develop economic strategies which include wider economic and industrial support beyond clean energy.
Promote local, inclusive, and decent work.
Support for human rights in global supply chains and the importance of building climate resilience.
Report on Just Transition efforts in Biennial Transparency Reports and NDCs.
"The declaration is recognition that climate action is not just an environmental issue but also has massive implications for working people" said Ludovic Voet. "That is important. Now, it needs to trigger action to manage the transition in a way that socially fair. Climate action and just transition should be scaled up to the urgency we are facing.
"The fourteen signatories are sending a strong signal. ETUC says it is time for all Governments to sign up and to sit down with trade unions to implement it. That is what the ETUC will be working to achieve across Europe."  
The European Union has agreed a Just Transition Fund of €17.5 billion to support coal regions and other carbon intensive industries as demanded by ETUC, although the budget and the scope is lower than needed. ETUC calls for a more comprehensive Just Transition framework to make climate ambition match the social challenges.
Signatories of the declaration are Belgium, Canada, Denmark, France, Germany, Italy, Netherlands, New Zealand, Norway, Poland, Spain, Sweden, United Kingdom, United States and the European Commission.
To see the declaration https://ukcop26.org/supporting-the-conditions-for-a-just-transition-internationally/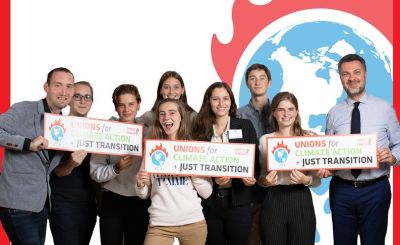 05.11.2021