Responding to the European Commission's economic forecast for Spring 2020, ETUC General Secretary Luca Visentini said:
"Today's forecast confirms that Europe is facing the deepest recession in its history, which means the only logical response is to launch the most ambitious economic recovery plan.
"Europe must learn the lessons from 2008 by supporting public investment to create economic demand needed for renewed growth rather than pursuing further austerity that would kill the recovery.
"The coronavirus crisis has temporarily put 40 million workers in unemployment – we cannot afford to lose these jobs permanently. Support must reach workers and companies as soon as possible and the SURE scheme must run for as long as needed to save these jobs.
"The recovery plan must be focused on quality job creation, investment in environmentally and socially sustainable activities, as well as on universally accessible social protection systems and public services.
"The forecast makes clear this recession will hit every member state, underlining the need for a united approach to financing the recovery through common EU bonds. Solidarity has been central to our response to the coronavirus crisis and must be at the heart of our response to its economic and social consequences."
NOTES
The ETUC
- notes that that the expected recovery will be uneven and that just a few Member States are forecast to fully recover their 2019 GDP levels by the end of 2021 in the most optimistic scenario envisaged by the European Commission
- supports financing the recovery – in addition to current and proposed fiscal supports - through a common European debt instrument backed by a larger multiannual Financial Framework.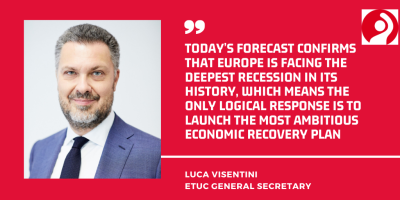 06.05.2020