Dutch Social Affairs and Employment Minister Karien van Gennip will today sign the European Trade Union Confederation (ETUC) 'Zero Death at Work' manifesto.
Launched on Workers Memorial Day on 28 April this year, the manifesto calls on the EU and member states to take the actions needed to achieve zero death at work.by 2030.
Minister van Gennip will be the 11th minister to sign the manifesto and joins Ministers from Spain, Romania, Belgium, Portugal, Finland, Slovakia, Slovenia and Luxembourg in calling for action at EU, national and company level to end death at work.
ETUC deputy secretary-general Claes-Mikael Ståhl will be present at the signing in The Hague, along with the vice-president of Dutch trade union FNV Kitty Jong and Petra Bolster, director of European affairs at the FNV.
"The eradication of fatal accidents is achievable" said Claes-Mikael Stahl. "This is not a utopian dream. We are delighted that Minister van Gennip is signing up for zero death at work. After all, she can take the necessary measures in the Netherlands and put pressure on the EU to take measures too."
Zero deaths
Achieving zero deaths means eliminating occupational diseases - including stopping exposure to hazardous including cancer-causing substances - and tackling occupational stress at which can cause heart disease, stroke, depression and even lead to suicide, as well as preventing accidents.
Climate change poses new risks to health and safety. COVID proved that companies need to be better prepared for future pandemics.  This requires legislative action and more training, prevention, protection, monitoring, reporting, inspection, enforcement and sanctions.
Tragedy must stop
Petra Bolster said "Every working day in the European Union, 12 working people do not come home from work because they died at work. Their families suffer emotionally, financially and in many other ways.
More than 100,000 deaths a year in Europe from working with carcinogenic substances is too crazy for words.
In the Netherlands, there are over 3,000. It is of great importance that we tackle this tragedy at European level too, this has to stop."
No paper tigers
During the visit, Kitty Jong will also hand the Minister the just-published brochure 45 years of Dutch Limit Values System.
This historical overview depicts the years-long battle that unions had to fight to get safe standards for carcinogenic substances into legislation.
Last summer, the FNV left the SER committee where these standards are set. This was because employers have too much influence on the level of these standards and enforcement is lacking.
"We don't want paper tigers" said De Jong "we want limits that are drawn up fairly and independently. Getting cancer from your work is just about the saddest thing a person can experience."
See link: https://www.etuc.org/en/publication/manifesto-zero-death-work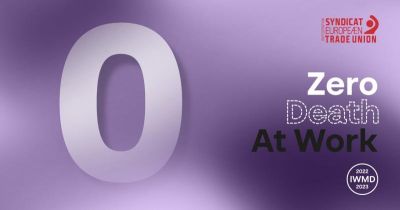 14.12.2022