Trade Unions are fully determined to eliminate violence against women through collective agreements, and their proper implementation with employers, at national, sectoral and company levels.
In a ground-breaking, and unpublished, study 'Safe at Home-Safe at work', which will be presented in Madrid on November 24-25 to mark the International Day against Violence against Women (November 25), the European Trade Union Confederation (ETUC) will reveal how trade unions in Europe have addressed violence against women at work and how support at the workplace can help eliminate violence against women at home.
The ETUC is hosting the Madrid conference to share experience of negotiations and agreements at company and sectoral level to combat violence against women and sexual harassment at work.
A survey carried out by the British TUC found that more than half of all women, and nearly two-thirds of women aged 18 to 24, experienced sexual harassment at work. A French survey, carried out in 2014, found that 1 in 5 women had been a victim of sexual harassment.
Pioneering agreements have been signed in several countries including Bulgaria, Denmark, France, Germany, Italy, Slovenia and the Netherlands – see https://www.etuc.org/publications/briefing-notes-etuc-project-safe-home-safe-work#.WDa3qKLhCt8 to more details in a briefing on the ETUC project 'Safe at home, safe at work'. 
Such agreements will guide future European trade union actions to eliminate violence against women at work.
The 2007 European Framework Agreement on Violence and Harassment at Work between the European trade union and employers' organisations led to Europe-wide agreements in the commerce, private security, local government, health and education sectors.
"Sexual harassment at work is a serious problem which can have far-reaching repercussions for the victims and impacts on the whole workplace," said Montserrat Mir, Confederal Secretary of the ETUC. "Together with the employers, we have the means to address it effectively through collective agreements, as our study shows.
"A new negotiating issue for trade unions and employers is how victims of violence at home can be supported in the workplace. Domestic violence often follows victims into the workplace, and obviously impacts on productivity and workplace morale. This makes domestic violence a trade union issue."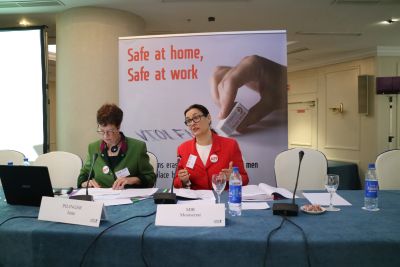 24.11.2016