Commenting on the agreement between the European Commission and the UK Government on Brexit negotiations, ETUC General Secretary Luca Visentini said "The starting gun for the next phase of the negotiations is now ready to be fired, subject to the agreement next week of EU 27 Governments."
"It is only right that the exit agreement recognises that EU and UK citizens should be able to continue to work, live and access healthcare, pensions and other benefits as is the case now, and there is a need to remain vigilant to ensure those rights continue be exercised easily and fairly. The commitment to protect against discrimination especially at work will need to be properly implemented.
"The principles agreed on Ireland are positive, although there are no details on how this can be achieved, these will have to be worked out later. Customs union or single market should not be ruled out.
"The biggest challenge lies ahead – to reach a long-term deal that safeguards jobs and living standards in the EU and the UK, that maintains the full rights of working people, strong environmental and consumer protection, and guarantees no low-wage tax haven on the EU's doorstep.
"The real negotiations to establish the future relationship are yet to start, and will require much more consultation with employers and trade unions – people with enormous experience in negotiations."
Frances O'Grady General Secretary of the British TUC said "the government's determination to leave the single market and customs unions is getting in the way. The government must drop its self-defeating red lines and put these options back on the table."
Patricia King, General Secretary of the Irish Congress of Trade Unions said "the best and most logical way to avoid a hard border is for the UK as a whole to remain in both the single market and customs union."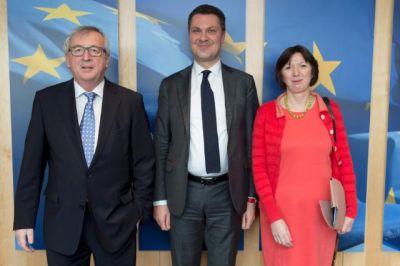 08.12.2017