Responding to the Autumn Economic Forecast published by the European Commission today, ETUC General Secretary Luca Visentini said:
"The forecast shows the economic crisis created by Covid-19 will continue for longer than expected, which means the measures introduced to deal with it must also continue, and be extended to cover all workers.
"The European Commission must now renew its SURE scheme for 2021 to ensure that member states do not prematurely withdraw  job and income support measures. Ending job support schemes before a real economic recovery has begun would likely see the EU's unemployment rate rapidly double to 30 million. If the European Commission expect growth to be driven by private consumption they need to ensure working people have a decent wage to spend.
"The recovery fund and long-term budget, including increased funds for health care and a just transition to a green economy, need to approved as soon as possible. Trade unions must also be more closely involved in the national recovery plans.
"The recovery has to pave the way to a socially fairer, greener and sustainable Europe."
Luca Visentini met this morning with Valdis Dombrovskis, the European Commission vice-president responsible for the economy, to discuss the need for a people's recovery.
In addition to the recovery plan and prolonging job support measures, he called for the European Commission to relieve budgetary pressure from member states by making permanent the pause in the terms of the Stability and Growth pact.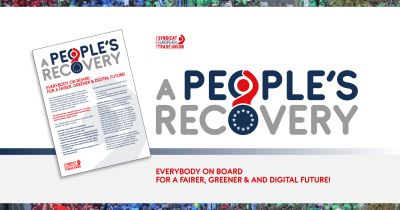 05.11.2020