"The strength of feeling among Ryanair workers is clear. Ryanair must commit to serious negotiations with the workers' trade unions and stop its ongoing attacks on their right to unionise," said Luca Visentini, General Secretary of the European Trade Union Confederation.
Commenting on reports that Ryanair had complained about the strike to the EU, Luca Visentini added:  "This is a blatant tactic to undermine today's strike. It cannot be given any credibility. Ryanair is trying to travel back in time by asking the European Commission to investigate, because it does not like who the members of the union are. Freedom of association is not an abstract idea, it's a right that is protected by the EU, and importantly the EU needs to tell Ryanair they do not get to pick and choose who is in the union.
"Instead of pursuing these time-wasting tactics and attacking its workforce's right to strike, we call on Ryanair to start delivering concrete improvements in pay and conditions for workers across its network now. They should also take up the offers to meet from the International Transport Workers' Federation (ITF) and European Transport Workers' Federation (ETF). ITF and ETF have decades of experience in industrial relations that Ryanair continues to show it hasn't. Only by taking these steps will Ryanair ever achieve sustainable industrial relations, as demanded."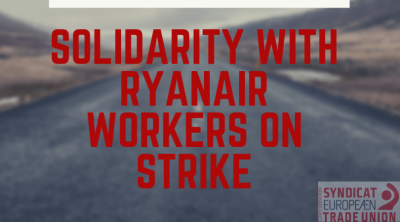 28.09.2018