Commenting on today's EU Valletta Summit, ETUC General Secretary Luca Visentini said:
The EU should not outsource the management of the humanitarian refugee crisis to Libya, and
The Summit should recognise high unemployment, poverty and growing inequality as the major threat to the stability of the EU in its discussion on the future of Europe.
"It is bad enough that the EU is paying Turkey to keep refugees out of Europe, it should avoid doing the same with Libya. Conditions for refugees in Libya would be much worse than in Turkey. Obliging refugees to stay in Libya would be in disregard of the EU's international obligations and humanitarian duty. Outsourcing the management of the humanitarian refugee crisis is not the answer. Closing the Mediterranean route merely shifts the burden of responsibility even more onto Africa, and does nothing to address the root causes.  I urge the EU not to do this.
"I am deeply disappointed that President Tusk does not acknowledge high unemployment, poverty and growing inequality as a threat to the stability of the EU. Popular discontent with the EU and the rise of openly racist politicians would end if people had good prospects for quality jobs, decent wages, and decent essential services such as housing, health and education for themselves and their children. I agree there are also other threats, but it is really important to recognise that while the crisis may be over for the elites it is still hitting working people very hard."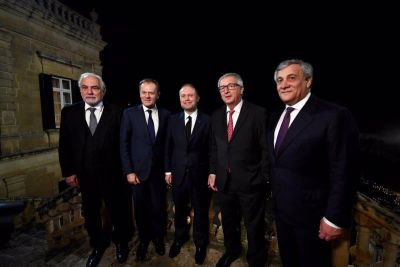 03.02.2017