Facebook's founder and CEO will still sleep soundly tonight after the European Commission took only tentative steps towards stronger regulation of social media platforms in its Democracy Action Plan published today.
The dominant market position of the digital giants, and business models that benefit from spreading content regardless of its veracity, seem to be disturbed only a little by the Plan.
Instead, the Commission commits to
Legislate on political advertising, a controversial but the relatively limited concern
"issue guidance to enhance the Code of Practice in spring 2021 and set up a more robust framework for monitoring its implementation"
 "improving the existing EU's toolbox for countering foreign interference, including new instruments that allow imposing costs on perpetrators"
More promisingly, it also states that stronger enforcement of GDPR is needed for online platforms.
The European Commission's Plan does make a number of welcome commitments to
Make recommendations on ensuring the safety of journalists and protect them and civil society from abusive lawsuits  
Strengthen cooperation in the EU to ensure free and fair elections
Promote democratic engagement and active participation beyond elections, and equality in access to democratic participation
Step up the EU's efforts to monitor and counter disinformation, particularly from foreign governments (although domestic disinformation is just as big a problem)
Invest in media literacy for citizens
Take measures to support media pluralism, map options for dealing with media diversity and concentration, and strengthen transparency of media ownership and state advertising.
ETUC Confederal Secretary Liina Carr said
"This action plan does not go far enough to defend democracy."
"It does contain positive commitments to protect journalists, promote media pluralism, improve regulation of social media platforms while fully protecting freedom of expression, and invest in media literacy.
"Independent journalism is a public good and the lack of a truly diverse and plural media is a market failure which the action plan takes small steps towards addressing.
"The owners of the digital giants can still sleep easy tonight knowing that they seem unlikely to be obliged to do anything too difficult to tackle the tsunami of disinformation that threatens to drown informed democratic debate."  
ETUC acknowledges that it remains to be seem what is contained in the Digital Services Act to be published next week.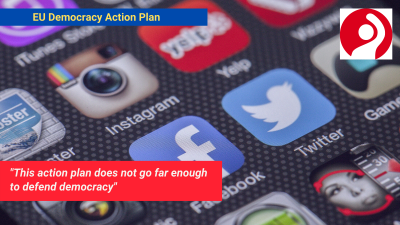 03.12.2020