In the final round of negotiations on the company law package, Member States have to guarantee that the directive protects workers' rights, tackles abuses and prevents the setup of letterbox companies. The Directive goes to the next round of 'trilogue' negotiations (between the three European Union (EU) institutions Commission, Council and Parliament) on 5 March, preceded by a meeting of member state diplomats (COREPER) on 1 March.
The European Trade Union Confederation (ETUC) calls on the Justice Ministers to agree with the European Parliament position on the following:
companies moving their seat from one EU country to another must give full information and consultation rights to their workers, including with the involvement of the European Works Council if it exists;
companies must maintain and strengthen board-level participation rights after the cross-border restructuring;
Member States should stop a cross-border conversion, division or merger when it constitutes an artificial arrangement (like a letterbox company) set up to avoid tax or other employer obligations.
"It's a simple matter of justice" said Peter Scherrer, Deputy General Secretary of the ETUC. "If the EU is making it easier for companies to be mobile, they must offer protection to the workers' involved. The right to information and consultation and to maintain board participation rights are frankly the absolute minimum, alongside stopping abuses of the to-be-made-easier-process leading to circumvention of workers' rights, avoidance of tax or social security contributions."
"Letterbox companies are already a major headache, European governments should not make matters worse. The Ministers should also consult their Employment colleagues on all the employment rights aspects of this draft directive."
The European Parliament has already a position safeguarding worker's rights and closing the loopholes in the European Commission's original proposal. The ETUC calls on the Parliament not to give up the important improvements it has introduced in the Directive. Now it is up to the member states to reach a more reasonable and balanced position.
"We need a fair directive, not a bad compromise" added Scherrer.
The ETUC continues to stress the necessity not to approve the agreement reached on the other part of the so-called company law package (a Directive on the use of digital tools and processes in company law) until agreement is also reached on this Directive.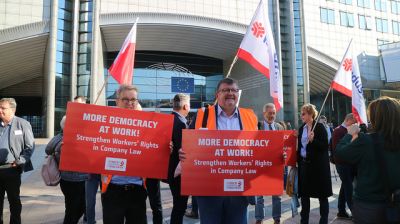 28.02.2019