The huge flow of investments by US companies in Europe, and by European companies in the US, show that it is not necessary to introduce new special legal procedures for investors, the European Trade Union Confederation (ETUC) told EU Trade Commissioner Cecilia Malmström in a meeting today.
The ETUC congratulated the Commissioner for making the TTIP negotiations more transparent, and urged her to do the same for other trade talks such as with Japan and China.
The ETUC also stressed the need for trade agreements, including TTIP, to
Include a strong and enforceable labour chapter to ensure workers' and trade union rights
Clearly exclude public services 
Bernadette Ségol, General Secretary of the ETUC, said "I have never heard anyone claim that the lack of special legal procedures for investors was barrier to US companies investing in the EU or vice-versa. So why is ISDS necessary? It is hard to understand why the Commission does not simply drop ISDS and concentrate on a TTIP which has some hope being ratified by the European Parliament and member states."
The ETUC also told Commissioner Malmström that it
Had not opposed the Free Trade Agreement with Korea partly because it did NOT include ISDS
Did oppose the trade agreement with Canada (CETA) because it included ISDS, did not uphold labour rights and was not clear enough about public services.   
One of the dangers of the CETA agreement including ISDS is that over 80% of US companies in the EU are also based in Canada and could launch ISDS cases from there, even if there were no ISDS in TTIP!
According to the European Commission total US investment in the EU is three times higher than in all of Asia, and EU investment in the US is around eight times the amount of EU investment in India and China together.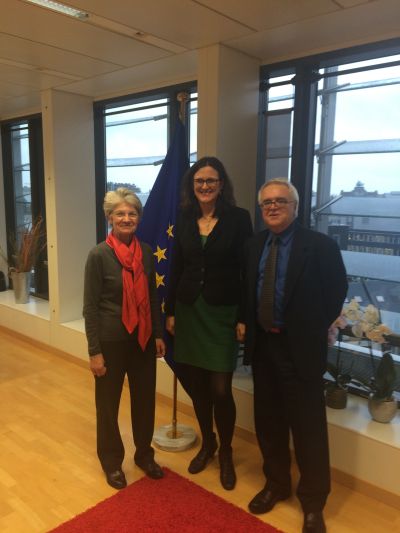 15.01.2015