The European Parliament's Legal Affairs Committee (JURI) Committee today voted for amendments to the European Commission's proposal for a Directive on Corporate Sustainability Due Diligence that would improve the conduct of European companies and hold them accountable for violations of human rights.
A day after the 10th anniversary of the Rana Plaza disaster, members of the European Parliament have taken another key step towards ensuring similar tragedies are avoided in the future. The Rana Plaza and other work place catastrophes could have been prevented if European companies had been obliged to take responsibility for the health and safety of workers in their supply chains.
The directive is an important step in the fight for better working conditions and respect for human rights worldwide by fostering sustainable and responsible corporate behaviour throughout global value chains. Companies will be required to identify, prevent, end or mitigate adverse impacts of their activities on human rights and the environment, such as the exploitation of workers and pollution.
The amendments agreed by the Committee include the following improvements: 
Strengthens the involvement of trade unions and workers' representatives as the voice of workers in due diligence plan and strategy, including to represent victims before court
 
Removed the concept of "established business relationships" and broadens the application of the directive on supply chains
 
Rules out a maximum level of harmonisation, meaning a limit on the action member states could take on workers' rights or the environment
The final text will be voted in plenary by the end of May before the European Parliament enters into trialogues negotiations together with the European Commission and the Council of the EU.
ETUC Confederal Secretary Isabelle Schömann said:
"After weak proposals from the Commission and the Council, the ETUC is pleased that the Parliament has shown that it effectively cares about improving human rights in the supply chains of European companies.
"One of the key improvements made by the Parliament is increasing the role for unions in defending victims. Workers involvement must be an integral part of due diligence plan or strategy. Workers' rights are human rights."
"The anniversary of the Rana Plaza disaster is a timely reminder of the need to put people and the planet before making profit at any cost.
"Although more is needed to protect human rights effectively and comprehensively, the ETUC believes the amendments adopted today are an important step towards  a key improvement in the conduct of European companies abroad, triggering effective business accountability."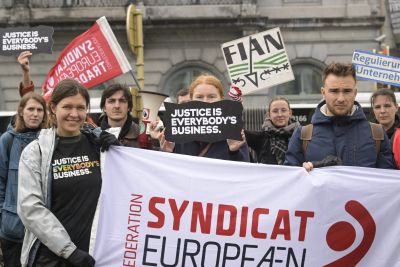 25.04.2023