The European Parliament's Employment Committee today adopted by a large majority MEP Dennis Radtke's (EPP) legislative initiative report on the revision of the European Works Council Directive.
MEPs call on the European Commission to improve the Directive on Works Councils to:
ensure the role of trade unions to support the European Works Council (EWC), and  
enforce the rights of EWCs, for example to be informed and consulted about restructuring, more effectively through access to justice and higher penalties.
ETUC Confederal Secretary Isabelle Schömann said:
" MEPs have sent a clear signal to the European Commission to act to strengthen European Works Councils and enforce their rightful role to be informed and consulted. EWCs are currently denied access to justice like in Finland or Ireland or the penalties for employers violating the rights of EWCs are ridiculously low in Europe.
"The ETUC has been pointing out other key weaknesses and loopholes in the directive for years and, so far, it has fallen on deaf ears in the European Commission.
"The report of the Employment Committee also aims to strengthen the role of trade unions in EWCs which we strongly welcome. It is important for EWCs to seek advice from the trade unions and to draw on their expertise. The MEPs' proposal aims to ensure that trade union representatives can be present at all meetings if requested by the EWC.
"It is worrying that Renew voted with ECR and far-right ID MEPs to remove reference to trade unions in the report. Trade unions are democratic organisations with a legitimate role to play in European Works Councils, so it is a shame that Renew would choose to vote with right-wing nationalist groups against trade unions."  
The ETUC will mobilise for a large majority for the vote in Plenary in January. When adopted the European Commission should be obliged to consider revising the Directive and justify its response to the Parliament.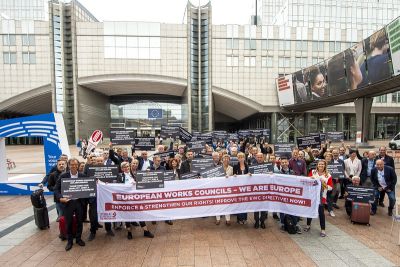 30.11.2022