The European Trade Union Confederation (ETUC) and industriAll Europe call on MEPs to vote tomorrow – Tuesday 14 November – in favour of the agreement by the European Commission, Parliament and Council on anti-dumping. 
The trade unions welcome the new method for assessing whether dumping caused by state subsidies is taking place. Indeed, the new method 
· does not grant market economy status to China, and
· allows non-respect of labour and environmental rules to be considered in anti-dumping cases.
"Fair trade is at the core of our demands" said Luis Colunga, Deputy General Secretary of industriAll Europe. "We cannot accept unfair trade practices further eroding Europe's industrial base, and European workers losing their jobs, because state subsidies allow countries to dump their products on our markets."
"This is clear progress" said Liina Carr, Confederal Secretary of the ETUC. "It is the first time in history that non-respect of labour rights can be legally challenged in trade defence. We can finally fight against social and environmental dumping in some countries destroying quality jobs in the EU."
The ETUC and industriAll Europe thank the European Parliament, and all who contributed to  the agreement, and calls on all MEPs to give the green light to this long-awaited reform.
More information
Briefing on "New alternative anti-dumping methodology - European jobs safeguarded against unfair trade practices!" https://prod-industriall-europe.azurewebsites.net/content/documents/upload/2017/11/636461640972957433_Note%20China%20MES%20EN.pdf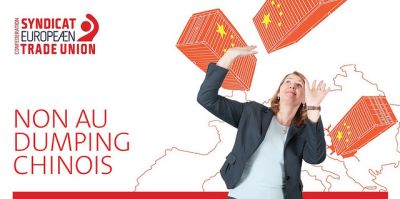 13.11.2017