Democratic political parties forming a new coalition in the European Parliament to exclude the far-right "must put a renewed Social Contract for Europe at the heart of their programme including for the appointment of the new European Commission President and Commissioners" said Luca Visentini, re-elected General Secretary of the European Trade Union Confederation (ETUC).
"We welcome the fact that the democratic political groups want to form a new coalition, but it has to be based on more than excluding the unacceptable. It has to lead with a forward-looking programme for a sustainable economic model based on social justice and climate action."
"The way to uphold democracy is to tackle the root causes of people's disillusionment with politics. A new coalition has to deliver actions that restore hope in the future and make a positive difference to people's lives.
"It is good that there was a high turnout and that the far-right and nationalist parties did not make the big break-through they were hoping for and that there is a large democratic majority in the European Parliament. But the real question is what will they do with that majority – will they restore faith in democratic cooperation by bringing Europe out of austerity, giving working people their fair share of growth and defending social and environmental rights; or will they disappoint voters once again with a failure to take decisive action on the issues that matter?
"There is no time to waste. The democratic parties need to keep the transition as short as possible, and to reach out to the social partners and civil society to help get the EU on the right track once more.
"We want to see a clear programme at the basis of the new coalition, and we appeal democratic European parties and national leaders to involve trade unions and social partners in setting it up."
ETUC last week held its once-every-four-years Congress where over 600 delegates from national trade unions elected a new leadership team and adopted a manifesto for the coming years.
More information:
Manifesto https://www.etuc.org/en/pressrelease/luca-visentini-re-elected-general-secretary-laurent-berger-elected-etuc-president
Message to EU https://www.etuc.org/en/pressrelease/etuc-congress-opens-thanks-juncker-and-call-costa
ETUC election initiative https://www.etuc.org/en/pressrelease/unions-urge-vote-euro-elections-fairer-europe-democracy-and-social-justice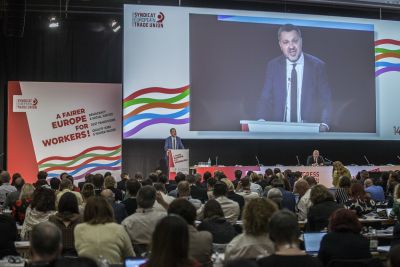 28.05.2019