Commenting on the European Commission's renewed Industrial Policy Strategy, published today, Peter Scherrer, Deputy General Secretary of the European Trade Union Confederation (ETUC) said:
"The ETUC has long called for a new EU industrial strategy, and welcomes the fact that the European Commission has now published 'A renewed Industrial Policy strategy'.
"We agree with the European Commission's goal of better supporting EU industries and industrial employment. At the same time, it is surprising there seems to be nothing about managing change and workers' participation, restructuring and job losses.
"It's no use just hoping that digitalisation, decarbonisation and other trends will create more jobs than they destroy – there needs to be active change management. Boosting competitiveness, skills and the single market is all good, but we also need to plan and achieve a fair and just transition.
"We note the Commission's long list of wide-ranging initiatives for a renewed industrial policy, and look forward to contributing to the debate on the new proposals, including through the High Level Roundtable. We urge Member State governments to commit to a new and strong EU Industrial Policy."
A joint ETUC/Business Europe letter published in March 2016 called for an updated industrial policy, see https://www.etuc.org/sites/www.etuc.org/files/press-release/files/14.03.16_final_statement_industrial_policy.pdf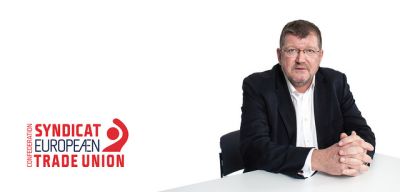 18.09.2017