The European Parliament today voted by a large majority in favour of the report by MEP Dennis Radtke (EPP) on the revision of the European Works Council Directive.
MEPs urge the European Commission to act as soon as possible in order to address the many shortcomings in the current legislation that prevent European Works Councils (EWCs) from effectively exercising their rights.
Today's victory is the first step and the ETUC will continue its fight to improve EWC rights. The European Commission now has three months to respond to the demands of the European Parliament.
ETUC Confederal Secretary Isabelle Schömann said:
"Today is an important day for workers in Europe: The European Parliament calls for the effective exercise of workers information and consultation rights in transnational companies to represent workers' interests. The European Parliament report, voted at a large majority, not only sends a strong signal to European workers that their voices matter, echoing the ETUC longstanding demands. It is also a clear request to the European Commission to act, and to act now to strengthen the rights of information and consultation of European works councils. They are key in particular to maintain employment in case of  transnational restructuring.  European works Councils are at the forefront of the Europeanisation of industrial relations."
"The current directive needs to be reviewed, as it is a toothless tiger. It formulates important rights for EWCs. However, none of them can really be enforced: either because their formulation is too vague or because there are no deterrent sanctions linked to them. The European Commission should now deliver to close the loopholes identified."
"The ETUC will continue its fight to improve EWC rights. Today's victory is the first step, more must follow. One thing is clear: any proposal by the EC must bring legal certainty and predictability. The ball is now in the Commission's court to initiate the social partner consultation as soon as possible. EWC's waited long enough."
Notes
You find more background information on European Works Councils on our dedicated website www.DemocracyAtWork.eu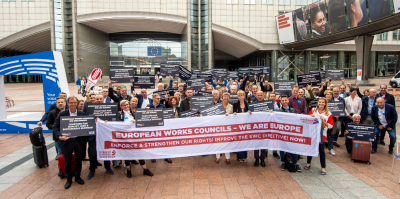 02.02.2023