The European Trade Union Confederation (ETUC) welcomes the European Commission's initiative to put industry back on the agenda. Its renewed Industrial Policy Strategy is a first concrete answer to the European social partners' 2016 joint declaration calling for an updated industrial policy.
The ETUC supports the Commission's efforts to design a comprehensive framework and the objective of industry accounting for 20% of Europe's GDP by 2020, but progress is still needed to make Europe an industrial leader in low-carbon technologies and fully tap its employment potential.
 "A strong industry is the bedrock of quality employment and prosperity," said Peter Scherrer, ETUC Deputy General Secretary. "Europe must be leading the shift to the industry of the future which will be digital and low-carbon. This requires massive investment in innovation and a policy framework that triggers the change while concretely supporting those in hardship because of the ongoing transitions."
Among ETUC concerns:
Trade policy measures must be implemented to better support EU industries.

Profits must benefit the real economy. As internal demand is a key driver of industrial growth, a pay rise for workers would be an important contribution to recovery.

The Commission should put more emphasis on workers' participation and lifelong learning policies.

Digitalisation needs to be fairly addressed if we want good working conditions for platform labour. Setting up a European digital agency with social partner involvement would be a step in the right direction.
"We look forward to contributing to the debate on the new proposals to make sure that our concerns are considered including through the High-Level Roundtable," added Peter Scherrer.
More information
ETUC press release: New EU Industrial Policy? /press/new-eu-industrial-policy .

Joint ETUC/Business Europe letter published in March 2016 for an updated industrial policy https://www.etuc.org/sites/www.etuc.org/files/press-release/files/14.03.16_final_statement_industrial_policy.pdf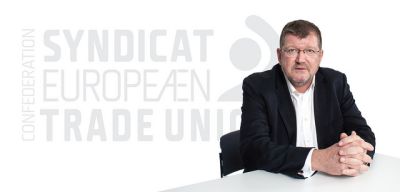 27.10.2017