Dangerous machinery will have to undergo independent safety checks for the first time in over 15 years under a newly-agreed EU regulation.
Mandatory third-party safety checks on high-risk machinery were scrapped in 2006 as part of the European Commission's deregulation drive known as 'Better Regulation'.
The number of workers in Europe being injured by machines subsequently increased, Eurostat figures show.
Now at least six categories of machinery will once again be subject to mandatory third-party checks, and the European Commission will be able to add further products to the list on an ongoing basis.
Artificial Intelligence
That was the agreement made between the European Council and European Parliament last week.
Importantly, mandatory third-party checks will apply to dangerous machines using artificial intelligence, which have already been the cause of workplace accidents. E-bikes are also included.
Member states will have to improve the reporting of accidents involving machinery, and based on those statistics, further machines will be subject to mandatory safety inspections.
Trade unions pushed for more categories of machines to be subject to mandatory third-party checks but this regulation still represents a step in the right direction.
ETUC Deputy General Secretary Claes-Mikael Stahl said:
"The decision to end all mandatory third-party safety checks for high-risk machinery in 2006 was based entirely on right-wing political ideology rather than practical considerations about workers' safety.
"I'm pleased that Europe once again has safety rules based on the need to save lives rather than just save money.
"We believe more machines should be subject to independent safety checks but this regulation is a long overdue step in the right direction."  
industriAll Europe Deputy General Secretary Isabelle Barthès said: 
"Ensuring safe workplaces and preventing future risks are top priorities for trade unions. We therefore welcome the new regulation as it provides better protection for workers from risks related to AI technologies.
"However, we regret that the Council and the EP have succeeded in limiting external safety checks to certain categories of machinery. This is contrary to the Commission's original approach of creating a fully safe working environment for all high-risk machinery.
"Trade unions will remain vigilant in ensuring that new categories of machinery are eligible for mandatory third party safety inspections where necessary. If we want people to embrace AI, we need to ensure that it benefits both companies and workers and does not create new hazards.
Notes
Machine injuries increase after cut to safety checks https://www.etuc.org/en/pressrelease/machine-injuries-increase-after-cut-safety-checks
ETUC position paper on the EC proposal for a regulation on machinery products: https://www.etuc.org/en/document/etuc-position-paper-ec-proposal-regulation-machinery-products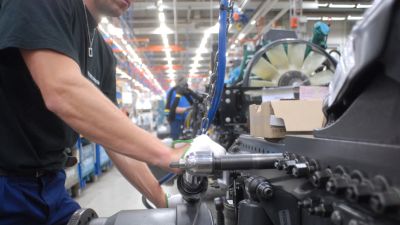 19.12.2022