Key findings of Winter 2022 Economic Forecast published today by the European Commission: 
"The EU as a whole reached its pre-pandemic level of GDP in the third quarter of 2021 and all Member States are projected to have passed this milestone by the end of 2022"
 
"The full deployment of the Recovery and Resilience Facility (RRF) are all set to sustain a prolonged and robust expansionary phase."
 
"As the pressures from supply constraints and high energy prices fade, inflation is expected to decline to 2.1% in the final quarter of the year, before moving below the European Central Bank's 2% target throughout 2023."
Responding to the forecast, ETUC Confederal Secretary Liina Carr said:
"The fact that Europe's economy has returned to its pre-pandemic levels so quickly is a clear vindication of the unprecedented EU recovery fund and quick policy responses. It comes in stark contrast with the results of the EU's austerity-driven response to the 2008 banking crash, which only prolonged the crisis.
"It confirms that strong public investment is key to stimulating growth and calls for a deep revision of the fiscal rules, if the current recovery is to be supported to tackle the great challenges lying ahead of us.
"Reform of the EU's economic rules are badly needed to ensure public investment continues on the scale needed to see us through the pandemic, including meeting the "increased strain" on public health services set out in today's forecast. But this investment will need to continue after the pandemic if Europe is to move to a green economy in a way that's fair to workers and keep pace with its global rivals by ensuring our industries are fit for the digital economy. 
"The Commission is clear that the sharp rise in energy prices and supply side bottlenecks are to blame for rising inflation and do not mention wages as an aggravating factor. In fact, the Commission says the third quarter of 2021 saw the "the slowest growth rate since the pandemic broke out" and that wages fell in real terms "taking into account steeply rising consumer prices." With the pressures fueling higher inflation predicted to fade by the end of the year, it's clear working people will need to be compensated for recent losses as well as the fact wages have been way behind productivity for the last decade."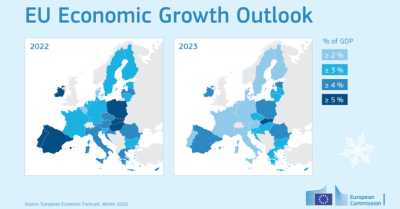 10.02.2022