On International Migrants' Day, the trade union movement reiterates its solidarity with undocumented migrant workers. The European Trade Union Confederation (ETUC) and Platform for International Cooperation on Undocumented Migrants (PICUM) today issue a leaflet to support trade unions in their efforts to speak up for and organise undocumented workers.
Undocumented workers across Europe are performing vital jobs, but are often unable to do so regularly, and are frequently paid below the minimum wage, paid late or subject to wage theft. They are required to work very long hours, without adequate breaks, overtime, holiday or sick leave, or other basic social security. They are often not provided with necessary safety equipment and training, making them at greater risk of injuries, accidents and occupational illnesses, while also having very limited access to health services.
Liina Carr, ETUC Confederal Secretary explained:
"All workers have rights, including undocumented migrant workers. Trade unions, at all levels, must play their role in enforcing those rights. Defending undocumented workers' rights is crucial both to uphold their human rights and to ensure hard won labour rights are enjoyed by all. Only a workers' movement that protects every worker will be strong enough to face the global economic pressures and fight precarious work. A worker is a worker!"
PICUM Director Michele LeVoy highlighted:
"Like any of us, undocumented workers aspire to earn a decent living in normal conditions to support their families. But if they challenge abusive conditions, they might risk being fired, or even deported if they seek help from the labour authorities. They thus become a zero-risk victim for unscrupulous employers. Trade unions can make a huge difference by advocating for undocumented workers' rights, and helping them to file complaints and get redress without risking immigration enforcement. Trade unions have a key role to play in reaching out to undocumented workers to provide them with information, advice, and support such as mediation and collective actions."
Notes to editors:
The leaflet is available in pdf below. Other language versions are forthcoming, including Bulgarian, Czech, Dutch, French, German, Greek, Hungarian, Italian, Polish, Romanian, Slovak, Slovenian, Spanish, and Swedish.
ETUC brochure "Defending undocumented workers - means defending all workers"
PICUM leaflet "UNDOCUMENTED MIGRANT WORKERS: Guidelines for developing an effective complaints mechanism in cases of labour exploitation or abuse is available in Czech, Dutch, English and German here.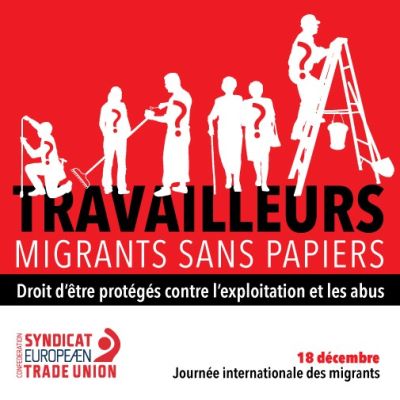 18.12.2017