The European Trade Union Confederation is calling on national governments to maintain emergency job protection measures as EU unemployment rose for the sixth month in a row.
According to Eurostat official figures published today, 238,000 more people became permanently unemployed between July and August.
That means the number of permanent job losses since lockdown began in March is over 1.7 million, taking total EU unemployment to 15.6 million.
The overall unemployment rate has increased from 6.4% to 7.4% since March, and from 14.5% to 17.6% among young people.
On top of this, there are some 45 million workers on short-time work schemes who are at risk of permanent unemployment unless emergency measures are extended and the Recovery Plan launched.
ETUC General Secretary Luca Visentini, responding to the latest figures, said:
"Unemployment is increasing fast and the hoped-for return to work is not really happening.
"This is an economic emergency and measures to protect jobs and wages must stay in place until a real recovery is happening. The member states have a good motivation to reach agreement on the Recovery Plan, because the longer it  is delayed the longer emergency measures will be needed.  
"The number of people out of work in Europe is very high, and with 45 million people at risk of redundancy, it could quickly go from unacceptable to catastrophic if job protection policies secured by trade unions are dropped by national governments."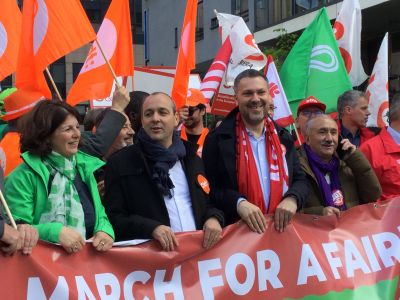 01.10.2020