Commenting on the outcome of the European Council, ETUC General Secretary Luca Visentini said:
"EU leaders have finally backed the urgently required emergency measures, but it's very worrying that they will not be available before 1st June when workers, companies and public services are struggling now.
"With over 40 million workers currently in unemployment across Europe, it has to be urgently clarified that the money allocated to SURE is ring-fenced for employment and income support schemes implemented with trade unions in all member states. Extra healthcare costs can be met with ESM loans without fear now that leaders have seen sense and agreed not to attach punitive conditions.
"Leaders now need to speed up planning for a socially fair and green economic recovery from this crisis. Given the scale of unemployment, and lack of economic activity these past weeks, the recovery needs to be very well funded.
"The announced increase of the EU budget up to 2% of GNI, providing a balance of loans and direct grants to member states, workers and companies, goes in the right direction. Now it has to be decided without delay that such a Recovery Plan is to be backed-up by common bonds to be guaranteed by the EU."
On the future of the SURE scheme, Mr Visentini added:
"The tens of millions of workers who see their jobs threatened by corona virus cannot wait until 1st June to receives support from SURE. Additionally, the option of prolonging SURE at least until 2022 will be a workable compromise only if it  allows some flexibility.
"We sincerely hope EU support for job protection and for unemployment will not be necessary beyond 2022, but fear it might be, and this will require more permanent common EU tools. Now we need all member states to make the necessary guarantees to finance SURE, otherwise the money available will be uncertain."
"Trade unions will be urging every member state to set up adequate job protection schemes for all workers including those in precarious or non-standard conditions, in negotiation with trade unions, and to ensure that aid goes to companies that are not making redundancies."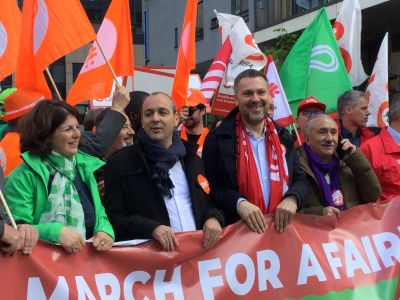 23.04.2020