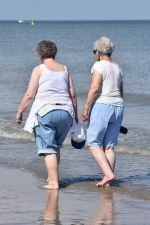 Over the summer months, trade unions representing pensioners in Croatia launched action to stop older people being unfairly excluded from access to beaches and tourist resorts.
According to the Union of Autonomous Trade Unions of Croatia (SSSH), local authorities in some popular tourist destinations impose such high fees for bus access and parking that they are out of reach for retired people. The Croatian Pensioners' Union has branded charges of up to 1,000 kuna (€135) per day per bus in some seaside resorts as ageist and discriminatory.
"Bearing in mind the disgracefully low pensions of most of our retirees, the additional excursion costs jeopardise the organisation of even one-day excursions for pensioners' associations seeking to allow sea access to the large number of members who are suffering poverty," declared the union.  "We urgently need to take appropriate measures to protect the human rights of pensioners and the elderly."
Trade unions have raised the problem with the Croatian government and relevant ministries and have pledged to monitor responses.