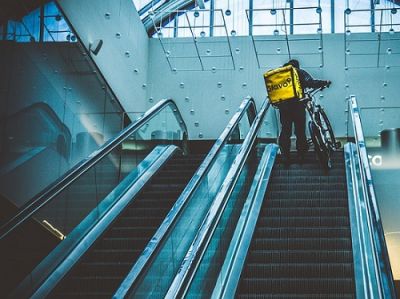 Following agreement with trade unions and employers, Spain's Labour Ministry has announced the introduction of legislation that will give security to food delivery riders employed through digital platforms like Deliveroo.
The move aims to improve the conditions of delivery workers, who have in the past suffered low salaries, long working hours, and reduced labour rights. If the draft law is approved by the Spanish Parliament, they will obtain the status of permanent staff rather than self-employed. It follows a recent ruling in the Spanish Supreme Court that a delivery rider employed by Glovo should be treated as a staff member.
Spanish trade unions Comisiones Obreras (CC.OO) and the Unión General de Trabajadores (UGT) have welcomed the '"change of mentality" - acceptance that delivery workers should have full labour rights and benefits - although they have called for the new rules to be extended to all digital platform workers.
Meanwhile in the UK, trade unions acclaimed Uber's decision to treat its 70,000 British drivers as workers, entitling them to the minimum wage, vacation pay and other benefits, after a landmark ruling from the UK Supreme Court in February.
Image by Hjrivas at Pixabay