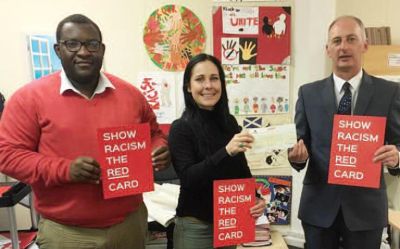 Scotland loves football, and it should be a game that welcomes everyone. The British train drivers' union ASLEF is one of the trade unions taking action to 'Show Racism the Red Card', and kick race-hate out of the beautiful game.
Members in Scotland have collected money to pay for printing of materials, visits to schools to talk to children about racial tolerance, and events involving footballers themselves. "The backing we get from ASLEF never ceases to amaze us," said SRtRC campaign manager Nicole Hay.
Unite the union also encouraged its members across the UK and Ireland to 'show racism the red card' by dressing appropriately on Wear Red Day, 21 October 2016.