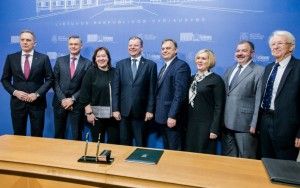 The government and social partners – business representatives and trade unions – in Lithuania have signed an agreement in favour of higher wages, cutting taxes on labour and encouraging collective agreements.
These pledges will be implemented in line with the principles of "good will, honesty, confidence and constructive dialogue", says the accord, with a further agreement to be concluded on higher wages.
Arturas Cerniauskas, chairman of the Lithuanian Confederation of Trade Unions, was one of the signatories, together with Lithuanian Prime Minister Saulius Skvernelis, and employers' leaders. To benefit the country's economic development, the document foresees a pay rise for employees, but no overall increase in taxes on business.
It also aims to promote 'a positive image of business' and ease procedures for immigrants to access Lithuania's labour market.